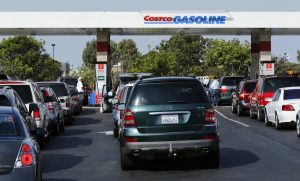 LA is famous for its super high and surprisingly inconsistent gas prices. It will cost you a fortune to fill up your tank in Culver City, and you will get a better deal for your buck at Burbank or Alhambra.
As a Costco member, you will always enjoy the fair, sometimes even the lowest gas price. We have created a daily updated table of Costco gas prices in the Greater Los Angeles area.
The table below shows today's gas prices at Costco gas stations in Los Angeles.
Gasoline prices are updated as of 10/04/2023
Station
Regular Gas Price
Premium Gas Price
Address
Hours
Map

Station

Alhambra

Regular Gas Price

$5.299

Premium gas Price

$5.599

Address

2207 W COMMONWEALTH AVE ALHAMBRA, CA 91803-1302
(626) 289-7164

Hours

Mon-Fri. 5:30am – 9:30pm
Sat. 6:00am – 8:00pm
Sun. 6:00am – 8:00pm

Map

Station

Azusa

Regular Gas Price

$5.299

Premium gas Price

$5.599

Address

1220 W FOOTHILL BLVD AZUSA, CA 91702-2819
(626) 812-7911

Hours

Mon-Fri. 5:30am – 9:30pm
Sat. 6:00am – 8:00pm
Sun. 6:00am – 7:30pm

Map

Station

Burbank

Regular Gas Price

$5.399

Premium gas Price

$5.599

Address

1051 W BURBANK BLVD BURBANK, CA 91506-1421
(818) 557-3783

Hours

Mon-Fri. 5:30am – 9:30pm
Sat. 6:00am – 8:00pm
Sun. 6:00am – 7:30pm

Map

Station

Culver City

Regular Gas Price

$5.399

Premium gas Price

$5.699

Address

13463 WASHINGTON BLVD MARINA DEL REY, CA 90292-5658
(310) 754-2003

Hours

Mon-Fri. 5:30am – 9:30pm
Sat. 6:00am – 8:00pm
Sun. 6:00am – 6:00pm

Map

Station

Hawthorne

Regular Gas Price

$5.299

Premium gas Price

$5.599

Address

14501 HINDRY AVENUE HAWTHORNE, CA 90250-6748
(310) 727-0403

Hours

Mon-Fri. 5:30am – 9:30pm
Sat. 6:00am – 8:00pm
Sun. 6:00am – 7:30pm

Map

Station

Inglewood

Regular Gas Price

$5.299

Premium gas Price

$5.599

Address

3560 W CENTURY BLVD INGLEWOOD, CA 90303-1201
(310) 242-2777

Hours

Mon-Fri. 5:30am – 9:30pm
Sat. 6:00am – 8:00pm
Sun. 6:00am – 7:30pm

Map

Station

La Habra

Regular Gas Price

$5.299

Premium gas Price

$5.599

Address

101 N BEACH BLVD LA HABRA, CA 90631-4468
(562) 524-0001

Hours

Mon-Fri. 5:30am – 9:30pm
Sat. 6:00am – 8:00pm
Sun. 6:00am – 7:30pm

Map

Station

Pacoima

Regular Gas Price

$5.459

Premium gas Price

$5.699

Address

13550 PAXTON ST PACOIMA, CA 91331-2352
(818) 272-2700

Hours

Mon-Fri. 5:30am – 9:30pm
Sat. 6:00am – 8:00pm
Sun. 6:00am – 7:30pm

Map

Station

Torrance

Regular Gas Price

$5.399

Premium gas Price

$5.699

Address

2640 LOMITA BLVD TORRANCE, CA 90505-5214
(310) 891-1020

Hours

Mon-Fri. 5:30am – 9:30pm
Sat. 6:00am – 8:00pm
Sun. 6:00am – 7:30pm

Map

Station

Van Nuys

Regular Gas Price

$5.459

Premium gas Price

$5.699

Address

6100 SEPULVEDA BLVD VAN NUYS, CA 91411-2503
(818) 989-5132

Hours

Mon-Fri. 5:30am – 9:30pm
Sat. 6:00am – 8:00pm
Sun. 6:00am – 7:30pm

Map

Station

Woodland Hills

Regular Gas Price

$5.399

Premium gas Price

$5.599

Address

21800 VICTORY BLVD WOODLAND HILLS, CA 91367-2227
(818) 884-9099

Hours

Mon-Fri. 5:30am – 9:30pm
Sat. 6:00am – 8:00pm
Sun. 6:00am – 7:30pm

Map